| | |
| --- | --- |
| | |
---
The Colorado Bernese Mountain Dog Meetup Group

The Colorado Bernese Mountain Dog Meetup Group arranges dog park play dates, hikes, camping trips, educational classes, and many other fun, social events for Berner lovers. See their Meetup group page for what's coming up.

BMDCR Meeting, Sunday, May 21, 2017 - Elizabeth, CO


33587 Eagle Court
Elizabeth, CO




Dumb Friend's League Furry Scurry, Saturday, May 6, 2017 - Denver, CO

7:30 am - Noon
Washington Park
1000 S. Downing St.
Denver, CO

The Dumb Friend's League is Colorado's leading humane society. Each spring they host the biggest dog walk in the country as their major fund raiser. This amazing event gathers thousands of dogs and their guardians for a two mile walk or race around Denver's Washington Park. There are also scores of vendors, educational booths, and dog sport demonstrations. For the sixth year in a row the Bernese Mountain Dogs and Friends Furry Scurry Team will be entering an amazing group of walkers and dogs. To date this team has raised $60,000 for the league and they plan to add to that total this year with an even bigger turnout.

Here is the link to join: http://support.ddfl.org/site/TR/Events/Furry_Scurry?team_id=14724&pg=team&fr_id=1390

BMDCR Spring Draft Tests - Saturday & Sunday May 20 &21, 2017 - Elizabeth, CO

33587 Eagle Court
Elizabeth, CO

Draft Test Chairman: Barb LeTourneau
Draft Test Secretary: Sharon Keefer
Judges: Julie Bacon and Peggy Granger.
AKC Dog Shows
Many members of the BMDCR actively show their dogs in conformation, obedience, and agility at AKC licensed shows. These events are a popular meeting place for members. Shows in the Rocky Mountain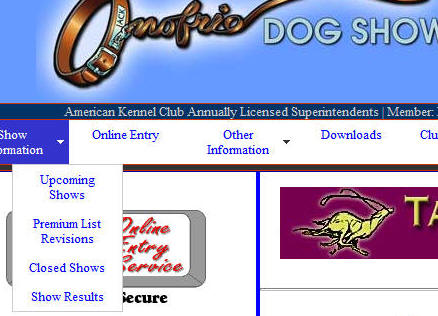 area are usually superintended by Jack Onofrio Dog Shows. Go to his home page (www.onofrio.com) for a schedule of events. Once there follow one of the "Show Information" links.
"Upcoming Shows" gives a long term view of shows that are coming up with dates and locations. Follow a link to a show and you can find the Premium List which has directions and other information.
A show is "closed" when exhibitors can no longer enter a dog; about 16 days before the show date. The "Closed Shows" link gives a short term view of shows and will have more detailed information. In particular, the Judging Program becomes available about 10 days before the show and contains the ring number and the ring time for every breed as well as the number of dogs entered. This information helps you plan your outing.

---
Club Events Around the USA
There are many other regional Berner clubs throughout the United States besides the BMDCR. Link to the BMDCA calendar of events page for information about events all around the country.
---
Philip Shaffer, pshaffer@bmd.org